Borzoi Club of California Events
independent Specialty show, April 15, 2022 at Oak Canyon Park, Silverado California
Breed and Junior Showmanship Judge: Mrs Kalen Voogt
Puppy & Veteran Sweeps Judge: Mrs Pamela Leichtnam
Some of the winners with the two judges.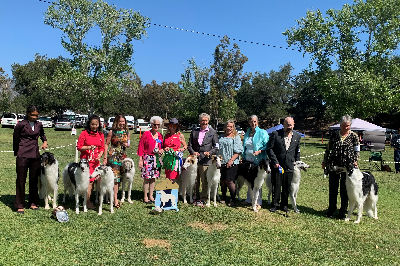 Best in Junior Showmanship - Natasha Burtch
Best Puppy Dog in Sweepstakes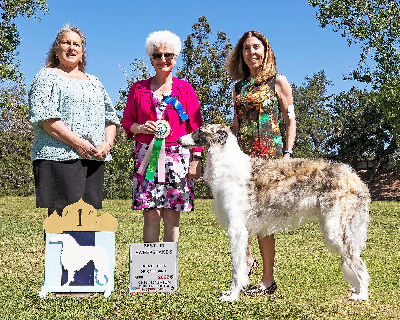 Atilla's Royal Snowleopard @ Maringa HP62414901 5/11/2021 By Kato's Blast From The Past @ Maringa & Howlinwolf Nirvana @ Miranga breeder David Hardin owners Joy Sargis-Muske & Scott Muske & David Hardin. Handler Joy Sargis-Muske
Best Puppy Bitch In Sweepstakes
Val Thor's Petticoat Junction HP61871708 2/24/2021 by CH Val Thor's Undercover SC RN & CH Val Thor's Cha Cha Slide SC breeder/owner Betty De la Rosa
Best In Veteran Sweepstakes
GCHB Ellen's Estee Lauder JC SC HP47574504 7/08/2014 by GCH Maringa's Brand New Day & Ellen's Travelling Back In Time breeder Ellen Hall owners Tomomi Mikawa & Ellen Hall
Best In Specialty Show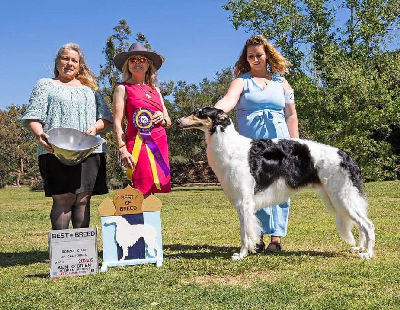 GCHS Morozova Rey's Summerlane Wind Rider HP57703001 3/29/2019 by CH Tantezampe Kilimanjaro Trek At Rey & CH Summerlane Lightning Ridge Black Opal JC, breeders/owners Kathleen Novotny & Janet Adams & Anne Quinn. Handler Robin Stachon.
Best Opposite Sex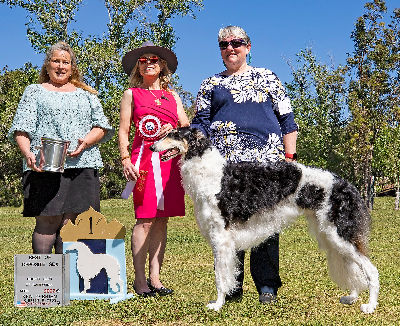 GCH Morozova Rey's Summerlane Mandolin Wind JC HP57703002 3/29/2019 by CH Tantezampe Kilimanjaro Trek At Rey & CH Summerlane Lightning Ridge Black Opal JC, breeders/owners Kathleen Novotny & Janet Adams & Anne Quinn. Handler Kay Novotny
Best of Winners/Winners Dog/Best Bred By Exhibitor
Joshua's San Gabriel Mtns HP59862805 3/27/2020 by CH Val-Thor Golightly Dirty Dancing & CH MorozovaRey's Foreign Affair @ Joshua. Breeders Cynthia Tellefsen and Beverly Peck. Owners Cynthia Tellefsen, Nicole Russ, Beverly Peck
Winners Bitch
Symar Tell Me Your Secrets BCAT HP57103806 11/14/2018 by GCHB Estet Classic Tihomir & CH Sunburst Ellicit Dream JC, breeder: Sydney & Mark Burnside, owner: Alexis Robertson
Reserve Winners Dog
Ninochka's Dobrij Duh Spirit At Sunburst HP55766401 1/18/2018 by Funny Flirt Royal Lily & Ninochka's Creme De La Creme breeder Andreja Novak Owners Mary Montgomery and Garnett Thompson and Joy Sargis-Muske
Reserve Winners Bitch
Steppes Red Hot Chili PepperHP58845701 6/26/2019 by Katushka's Star Lord SC & CH Steppes Reloaded, breeders Robin Stachon & Monika Stachon, owner David Hardin
Select Dog/Best Owner Handled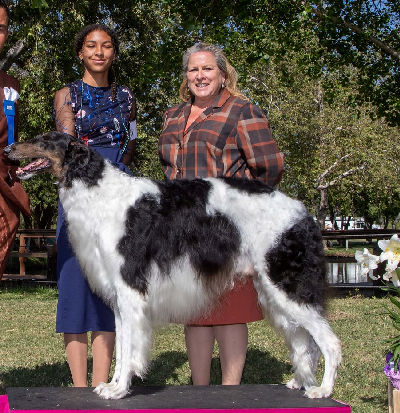 GCHB Estet Classic Tihomir HP52994201 10/17/2016 by Donskoi Vigow & Estet Classic Monisto breeder Olga Gorbatsjova & Natalie Kasemets owners Gwen Little & Natasha Burtch
Select Bitch
CH Joshua's Sequoia At Val-Thor HP59862808 3/27/2020 by GCH DC Val-Thor Golightly Dirty Dancing SC & CH Morozova Rey's Foreign Affair @Joshua breeders Cynthia Tellefsen & Beverly Peck owners Betty De La Rosa & Katie Fisher
Award of Merit
GCH Esperance Ellen's Peacemaker HP58477901, 8/16/2019 by GCH Majenkir Bookstor Tsuper Glider & GCHB CH Ellen's Estee Lauder SC breeders Tomomi Mikawa & Ellen Hall owners Tomomi Mikawa
Award of Merit
CH Estet Classic Ruslan BCAT HP58411403 1/08/2019 by GCHB Estet Classic Timofei & Estet Classic Vsemila breeders Olga Gorbatsjova & Natalie Kasemets owners Alexis Robertson & Gwen Little & Tony Gualtieri & Keith Hicks
Award of Merit/Best Veteran In Show
GCHB Ellen's Estee Lauder JC SC HP47574504 7/08/2014 by GCH Maringa's Brand New Day & Ellen's Travelling Back In Time breeder Ellen Hall owners Tomomi Mikawa & Ellen Hall
Award of Merit
GCH Sunburst Katz Red Blaze Of Glory HP49855803 8/19/2015 by CH Katz Golden Haze & Sunburst Dream Dancer breeder Garnett Thompson owners Joy Sargis-Muske & Scott Muske & Garnett Thompson
Best Puppy In Show
Atilla's Warhammer Pegasus @ Maringa HP63336602 5/20/2021 by Kato's Blast From The Past @ Maringa & Howlinwolf Art Deco Artisan @ Maringa breeder David Hardin owners Joy Sargis-Muske & Scott Muske & David Hardin
Best Brace In Show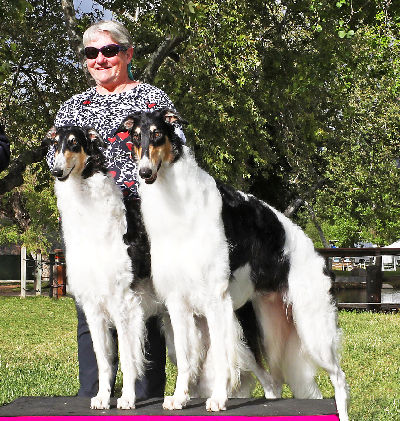 GCH Morozova Rey's Summerlane Mandolin Wind JC & GCHS Morozova Rey's Summerlane Wind Rider breeders/owners Kathleen Novotny & Janet Adams & Anne Quinn, handler Kay Novotny